NSG - 350
NSG-350 is made of cement,silica sand and other additives to create an interior or exterior grout with non-shrinking characteristics. It be used for grouting steel columns, bearing plates, precast concrete, and anchors. Grout compensates for an uneven foundation, distributes weight of unit, and prevents shifting after setting and leveling unit.
Uses
NSG-350 is suitable for repairs to the following concrete structures:
Machine foundations、Columns in precast construction、Concrete anchors、Bridge bearings、Cavities、Gaps、Recesses、Rail beds、Honeycombs (pre-packed grouting) etc.
Advantages
Good flow characteristics
Application instructions
1. Substrate quality / Pre-treatment
Surface treatments or any friable areas of the subfloor must be mechanically removed.
All substrate must be dry, stable, sound and free of all contaminants such as grease, oil, wax, that will interfere with the treatment.
2. Mixing
Add NSG-350 to 4~4.5 kg of water, mix with a high-speed drill (> 650 rpm) to blend water and powder for approximately 2~3 minutes, until a lump-free and uniform mix has been produced.
Note: A second application is recommended on high porosity, unsound or very absorbent substrates.
3. Application
When carrying out baseplate grouting, ensure sufficient pressure head is maintained for uninterrupted mortar flow. For formwork repair, the prepared formwork must be firmly in place and kept watertight.
When placing grout over a large area, it is important to maintain a continuous flow throughout.
In large areas, NSG-350 may be pumped using heavy duty diaphragm pumps. Screw feed and piston pumps may also be used.
4. Consumption
Note:This figure is theoretical and does not include for any additional material required due to surface porosity, surface profile, variations in level and wastage etc.
5. Maintenance
After 7 days of curing, the mold can be dismantled, and then follow-up works can be carried out.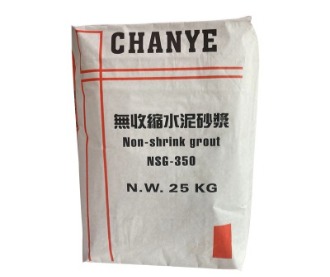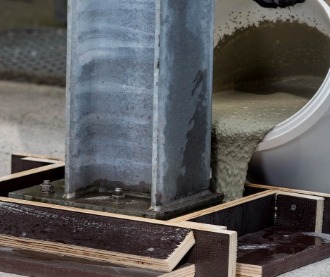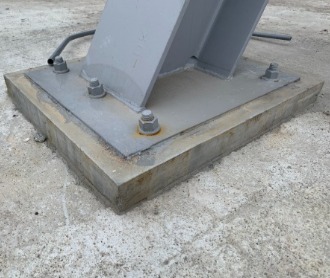 Technical Information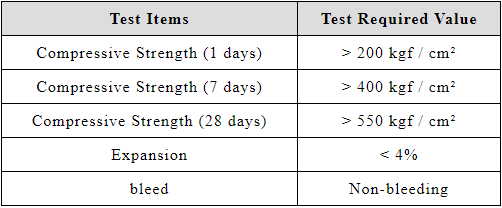 Packaging / Storage
NSG-350:25 kg/paper bag

Shelf Life:6 months from date of production if stored properly in original, unopened and undamaged sealed packaging
Store dry at +5~+35 °C Protect from moisture, direct sunlight, flame sources and freezing.