TA - 01
TA-01 is formulated with a special blend of Portland cement,sand and addtives.
High performance,ready to-use,deformable cementitious adhesive with extend open time,with high wetting capacity and very low emission of volatile organic compounds.it is particularly recommended for bonding large-sized tiles,gypsum-board,cement block wall.
Uses
Bonding ceramic tiles (porcelain,single-fired,terracotta,double-fired,klinker,etc),stone,mosaic on the following type of substrate:
Well cure,dry cementitous screeds
Cement plastered/ rendered
Gypsum board ( absorbent substrate treat with Chanye Primer-G)
Cement block wall (absorbent substrate treat with Chanye Primer-G)
Overlaying existing sound ceramic tiles or stones
Advantages
Good capacity to absorb deformations in the substrate and tiles.
Hardens with negligible shrinkage.
High security against efflorescence.
Extented open and adjustment times to make laying operations easier.
Application instructions
1. Substrate quality / Pre-treatment
Surface treatments or any friable areas of the subfloor must be mechanically removed.
All substrate must be dry, stable, sound and free of all contaminants such as grease, oil, paint, wax, dust, curing.
If the surface is too hot due to direct sunlight,cool it down with water.
2. Mixing
Pour 6.25-6.75 kg of clean, cool potable water into a suitably sized and clean mixing container, ensuring strict control of the water content (do not over-water).
Add TA-01 to the water, while slowly mixing, adding the complete contents of the bag.
Mix with a high-speed drill (> 650 rpm) and an egg beater style mixing paddle to blend water and powder for approximately 2~3 minutes, until a lump-free and uniform mix has been produced.
3. Application
TA-01 is applied using a suitable notched trowel .
Apply sufficient adhesive to the prepared fixing surface with the appropriate trowel and comb to the required bed thickness. Apply sufficient product to ensure adequate 'wetting' of the backs of the tiles.
Tiling must to be carried out on freshly applied adhesive, exerting adequate pressure to ensure complete and uniform contact with the adhesive and thus optimum bond.
Adjust tiles if required. Clean off surplus adhesive from tile face and between tile joints before the adhesive has dried. After the required waiting time apply the appropriate grout into the tile joints.
Note: Operating time: 20-30 minutes (temperature: + 15 ~ + 35 ° C)
4. Consumption


5. Cleaning of tools
Clean all tools and application equipment with water immediately after use.
Hardened / cured material can only be removed mechanically.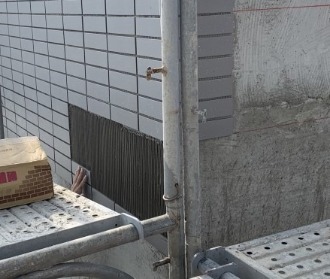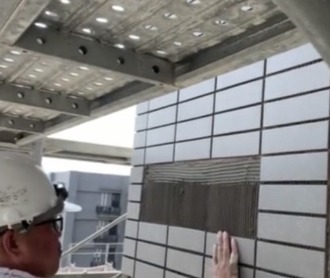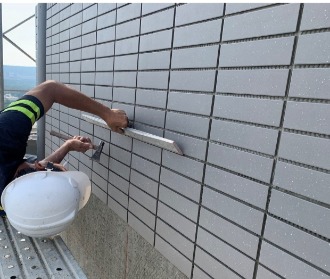 Technical Information

Packaging / Storage
TA - 01:25 kg /paper bag
Shelf Life:12 months from date of production if stored properly in original, unopened and undamaged sealed packaging
Store dry at +5~+35 °C Protect from moisture, direct sunlight, flame sources and freezing.