AW - 42 - 15
Silock AW-42-15 is an aqueous solution of potassium methyl siliconate and mainly used for the protection of concrete and stone. It can penetrate deeply into the pores or capillary pores of concrete and stone, and produce a chemical effect inside, forming a gelatinous substance to close all pores, and at the same time integrate with the concrete to achieve durable waterproofing and strengthen the role of the concrete structure. Since it is not a surface coating material or paint, and it is invisible to the naked eye, it will not change the original appearance of the building.
Uses
Silock AW-42-15 can be used for concrete, stone, bricks, plaster, cement bricks, stones, grouting, porous tiles or hollow bricks, on the inside or outside of buildings .
Advantages
Upon application, the agent turns colorless, membrane-free, and transparent.
It does not exhibit yellowing or change the appearance of the tiles.
It is characterized by exceptional permeability.
It easily penetrates construction surfaces, thereby generating superior water repellent effects.
Long-lasting reactions and powerful bonding with the cement after penetration enhances cement strength.
Application instructions
1. Substrate quality / Pre-treatment
Surface treatments or any friable areas of the subfloor must be mechanically removed.
All substrates must be dry, stable, sound and free of all contaminants such as grease, oil, paint, wax, dust, curing and sealing compounds that will interfere with the penetration the primer.
If the surface is alkalized, ashed or weathered, it should be treated or removed with an appropriate neutralizer such as 20% hydrochloric acid solution, and then rinsed with water to remove excess acid, and there should be 24 to 36 hours of drying time before construction.
Work such as painting and caulking should be solidified after the curing period has passed before construction can be carried out.
2. Application
Apply with brush, roller or spray gun with pressure below 20 Psi.

Note: The construction on the vertical surface should allow the excess material to flow down 10 to 12 inches to ensure that enough material is sucked into the construction surface to reach saturation.
3. Consumption
Stone:0.1 - 0.2 kg
Concrete:0.2 - 0.35 kg
Brick wall:0.3 - 0.4 kg
Stucco:0.4 - 0.5 kg
Painted surface:0.16 - 0.2 kg
Note:This figure is theoretical and does not include for any additional material required due to surface porosity, surface profile, variations in level and wastage etc.
4. Maintenance
In order to achieve the best waterproof effect, it is advisable to allow at least 24 hours of drying on the construction surface.
5. Cleaning of tools
Clean all tools and application equipment with water immediately after use.
Hardened / cured material can only be removed mechanically.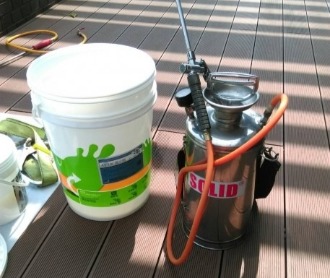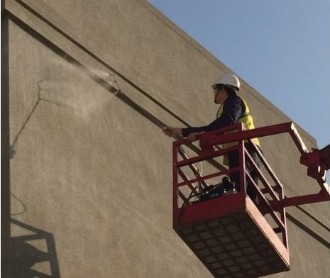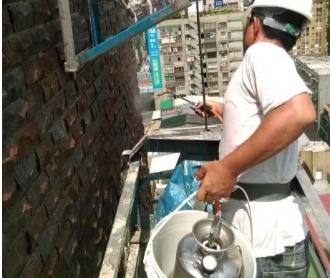 Technical Information

Packaging / Storage
AW-42-15:20 kg/bucket

Shelf Life:12 months from date of production if stored properly in original, unopened and undamaged sealed packaging.
Store dry at +5~+35 °C Protect from moisture, direct sunlight, flame sources and freezing.